Current Research
Candrive Study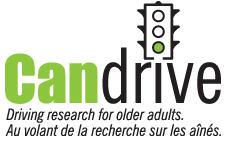 For more information on the Candrive study, please refer to the Candrive page.
Development of a Fair and Equitable Approach to Evaluate Senior Drivers
The primary research aim of this study is to demonstrate the validity and value of a three-tiered approach to assessing fitness-to-drive by adding simulator technology to typical occupational therapist assessments of older drivers.
A Randomized Controlled Trial of a Comprehensive Training Process to Enhance Safe Driving in Older Adults
This project, funded by Auto21, will examine the effectiveness of a comprehensive training program for drivers aged 65 years and older. We will be looking at how different combinations of in-class, on-road and simulated training affect actual driving performance, driving comfort levels, and driving knowledge.
Utilizing the Fatality Analyses Reporting System to Explore Associations

Sacha Dubois has worked extensively with the National Highway Traffic Safety Administrations' Fatality Analyses Reporting System (FARS) exploring such topics as the impact of medications on safe driving, the safety of 15-passenger vans, situational factors impacting driver/passenger relationships, and exploring the validity of various crash culpability analyses. Some recent studies utilizing data from FARS include:
- Examining the role of body mass index and age on crash fatalities (which was presented at the AUTO21 conference in May 2015)
- Impairment, motorcycles, and crash responsibility
- Fatal-crashes involving cyclists: crash-, cyclist-, and driver-related factors associated with crash responsibility